JBER's recreation access system has changed as of 28 August 2023!
If you are experiencing any issues with the new system, please email jessica.weikert@us.af.mil
JBER's bulletin board has a link to the new recreational access website and updates.
NOTICES:
The JBER ORV area is open for ORVs under 1,500 lbs GVW when those training areas are open for all recreation. The ORVs must be transported to and unloaded at the Pole Line Road, ORV parking lot. PPE, Insurance, ATV and Motorcycle courses are required for those vehicles.
For recreators that find unexploded ordnance, remember the 3Rs--Recognize, Retreat, Report. For more information click the QR code.
There are limited routes near Sixmile Lake and Otter Lake that do not require an iSportsman sign-in to walk or bike on. Click HERE for a detailed map.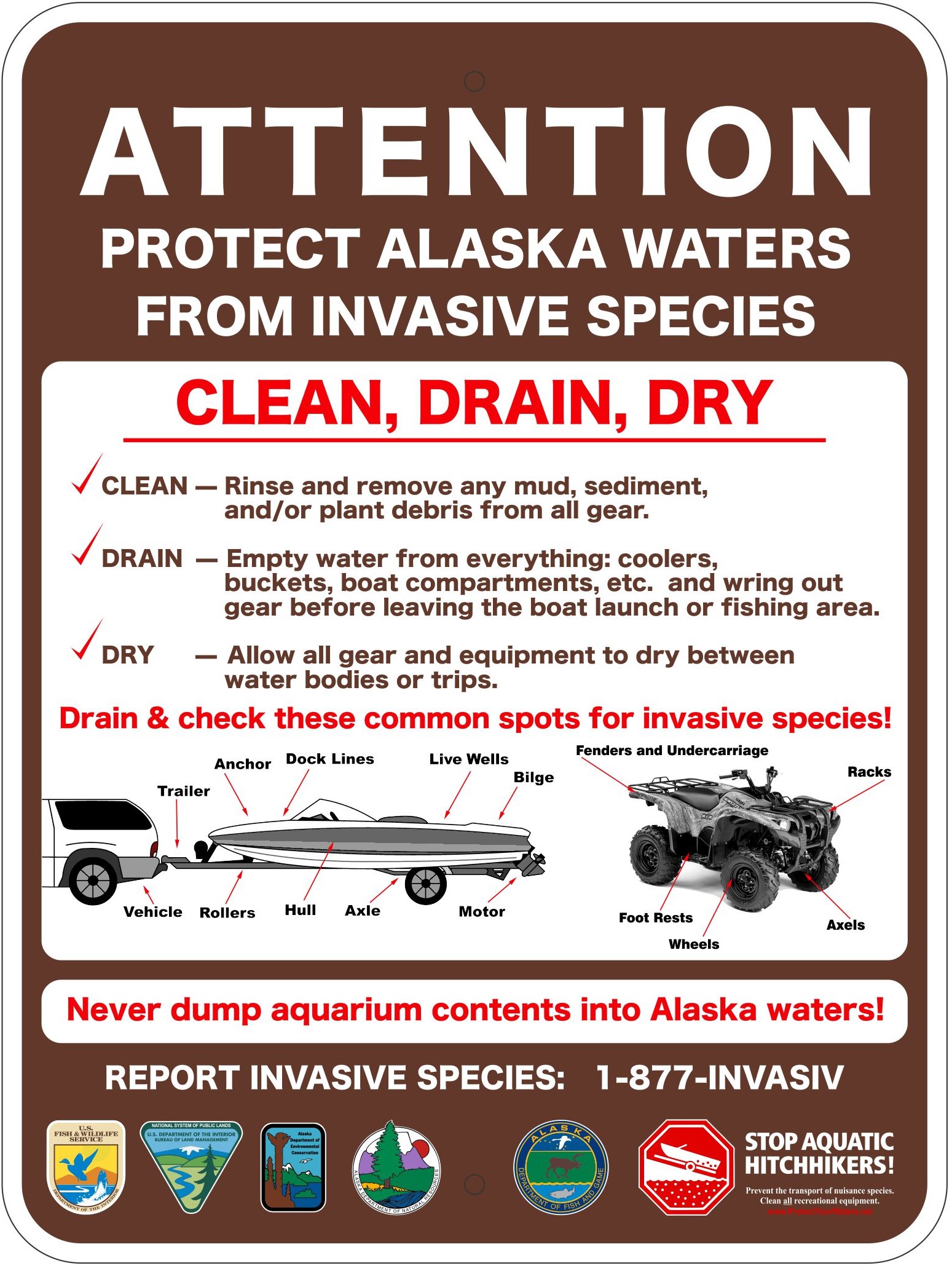 !! Important !! Elodea, an aquatic invasive plant species, has recently been discovered in Lower Sixmile Lake. If you suspect you've identified Elodea in any JBER lake, take a picture, note the location, and report it to JBER Natural Resources (384-3212). Remember to CLEAN, DRAIN, and DRY any equipment and gear utilized in any freshwater system to prevent spread of aquatic invasive species. For more information on Elodea, please visit https://plants.alaska.gov/invasives/elodea.htm
For wildlife emergencies or wildlife near or at schools, playgrounds, housing, facilities please contact SFS Desk who will dispatch the JBER Conservation Law Enforcement Officers.
JBER has been receiving numerous calls about the new road that visibly rises above Bulldog Trail (East of Muldoon Road) and over the Chugach Frontrange. This road is still actively under construction and CLOSED to recreation.
For those trying to contact the JBER Forester, iSportsman administrators, or other JBER contacts, please be advised that USAF computer servers have been known to restrict email communications from certain email providers, including GCI. If you do not receive a timely response to your email inquiry, it is recommended that you follow up with a phone call. See "Contacts" tab of the JBER iSportsman page for specific contact phone numbers.
Effective 1 February 2019, all recreation and access is prohibited in the area between Lower Sixmile Lake and Cook Inlet, including the entire length of Lower Sixmile Creek, EOD Creek, all trails and access roads, and the mouth of Sixmile Creek. The specific boundaries of the closed area are as follows:
North of Green Lake, West of 43rd Street, West of Fairchild Avenue after the Northern intersection with 43rd Street, North of 46th Street/Otter Lake Road, and West of the boundary with Training Area 415.
If you have any questions about these closures or areas, please call Conservation Law Enforcement at 907-552-8609.
Visitor Center Kiosks are available at the Richardson and Boniface Gates. These kiosks can be used by anyone to register, buy and print recreation permits, and access the iSportsman.net website.
Recreational Permit Requirement
The iSportsman registration is required for everyone 16 years and older, to include military members or retirees, DoD affiliated civilians and the public. Recreation permits are required to recreate in undeveloped portions of JBER, with the exception of Morale, Welfare and Recreation (MWR) facilities and WITHIN THE ROADWAYS of the following routes: Fairchild Ave, 46th St, Vandenberg Ave, Airlifter Dr, and Otter Lake Rd from the Fort Richardson main Cantonment to the intersection with 46th St and Vandenberg Ave. For example, camping and boat rental through MWR or picnicking at Otter Lake are exempt from iSportsman requirements, but hunting/fishing or harvesting anywhere on JBER requires an iSportsman recreational permit and state-issued hunting/fishing license, even when conducted at an MWR facility/event or military sponsored event. Recreating on the road system outside the cantonment areas or Otter Lake, Fairchild, Talley and 46th St. also requires an iSportsman permit and to be signed in.
Recreational activities requiring an iSportsman permit:
Hiking, biking or running even when conducted on roads with the only exceptions being Otter Lake, Talley, Fairchild and 46th st.
Fishing
Kayaking or canoeing with a boat that isn't rented from an MWR facility or associated with an MWR sponsored event
Foraging for wild edibles (including berries and mushrooms)
Sightseeing
Wildlife viewing/photography
Small game hunting
Activities with additional permit requirements (See specific activity pages)
Wood cutting (Firewood and Christmas tree)
Big game hunting (Moose and Black Bear)
ORV use (ATV and Snowmobile)
The following activities are not allowed on JBER:
Boating on Ship Creek
Trapping
Geocaching
Mineral exploration/extraction
Falconry (including active hunting, training or collecting eggs/chicks from nests)
Operation of unmanned aerial systems (UASs) such as drones
Target shooting (other than at approved MWR facilities)
Transplanting plants

Recreation on military lands is subject to availability and dependent on military security/training requirements. When signing into iSportsman, closed or restricted access areas will not show up as an option for recreational activities. Be aware that an installation pass is still required and that trespassing or permit violations may result in revocation of recreational privileges or more serious actions.
Hold Harmless Agreement
By using the iSportsman system to recreate on JBER you are agreeing to the Hold Harmless Agreement. Click HERE to read the agreement
---
---
How to Use This System
Click on the Registration link above
The system will walk you through the registration process
Once you are registered in the system you will need to acquire a Recreation Permit (iSportsman Permit)
To do this, from your account page, click on the 'Acquire Permit(s)' button, then purchase the Recreation Permit
The Recreation Permit is not a base access pass. If you do not already have base access, make sure you acquire a pass from security forces
For more information, see the

'Access'

page
---
Below is a summary of the information or function found at the tabs above
---
Access
Security Forces requirements

Information on who can recreate on base and where
Maps
Downloadable maps of recreation areas
Register
Initiates the process of registering an account in the iSportsman system
Sign in/Sign out
Initiates the process of signing in or out of JBER lands for recreation
Open Areas
Shows areas currently open for recreation

Forecasted openings
Activities
Hunting
Hunting regulations and requirements

Hunting maps

Weapons restrictions and requirements
Fishing
Fishing/boating regulations and requirements

Fishing/boating maps

ADFG stocking information
ORV/Snowmobile
Requirements and restrictions for use of Off-Road Vehicles (ORVs) and snowmobiles

Authorized area maps
Other Recreation
Information about other recreation including but not limited to: hiking, cycling, picking/harvesting, sightseeing, running, photography, etc.

Prohibited activities
Forestry
Forestry product harvest requirements and information

Personal use firewood

Personal use Christmas tree

Forestry user maps

General information about the forestry program
Wildlife
Nuisance or aggressive wildlife

Reporting

Safety information

Wildlife Education Center information
My Account
Administration of your iSportsman account
Links
State and Federal agencies

Other important information